QUIZ NIGHT 2nd November 2016
A great Quiz night was held at The Community Centre on Mansfield Road Alfreton on Wednesday the 2nd of November 2016.
Seventy members and guests took part in a challenge set by the club Secretary John North whose musical questions were as usual played out expertly on his key board.
Winner were a team lead by President Roger Stevenson and runners up were a team lead Vice President Dennis Fretwell.
The best dressed team on the theme of Olympics was Mandies Marvels from the Inner Wheel Club of Alfreton.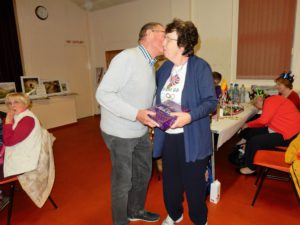 During the interval Part a fish and chip supper was provided.
The raffle raised over a three hundred pounds and the funds raised from the event will go to charities supported by the club this year.
Our next event is on Friday 25th November 2016  
'AN EVENING WITH MARTIN BUSH – ON HIS VOLUNTARY WORK AND EXPERIENCES WITH THE AFRICAN MERCY SHIP'
7.30 pm Riddings Community Centre, West Street, Riddings.
Tickets £7.50 including pie and pea supper
Contact the Secretary John North on 07484101274 for Tickets
ALFRETON LIGHTS SWITCH ON THE 26TH NOVEMBER
Club members will be present in Alfreton between 1.pm and 3.pm and then from 5.pm to 7.pm when the lights will be switched on.
CHRISTMAS TREE FESTIVAL 7TH DECEMBER
The club will be represented at the Tree Festival
at St. Martin's Church at 11.am
SANTA'S GROTTO AT TESCO'S ALFRETON
Santa and his Elves will be at Tesco's Alfreton on the 3rd, 10th, 17th, 18th, 21st, 22nd, and the 23rd of December at the times advertised in the store.