Quiz 2017
Community Christmas Sleigh 
At the Clubs weekly meeting on the 15th of May 2017 a cheque was presented to the Club by Councillor Mary Kerry the Mayor of Alfreton on behalf of the Alfreton Town Council. The money will be used towards the building of a sleigh by the club for use at Christmas by the club and the community.
Presentation of the cheque
Left to Right – Mayors Consort Rotarian Mandy Oldknow, President Roger Stevenson, Mayor of Alfreton Councillor Mary Kerry, Deputy Mayor Councillor John Walker, Town Clerk David Holmes
The Annual Charity Race Night was held on the 17th March 2017 raising £630. for Charitable Causes. 
On the 30th January a cheque for £1093.00 was presented by the club to the East Midlands Fund Raising Officer of the Alzheimer's Society. The monies were raised by the Club member's at a sponsored walk in May 2016. A further £442.00 had already been passed to the Society.
The Reverend Julian Penfold and Reverend Helen Penfold gave a New Year's Message to the Club Member's and their guests at the Club meeting on the 19th of January 2017 
The Club's Charity Carol Concert held at St. Andew's Church, Swanwick on the 19th December 2016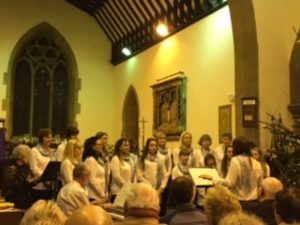 The Mayor of Alfreton Councillor Mary Kerry visiting Santa in his Grotto at Tesco's Store Alfreton on Saturday  the 3rd of December 2016
     Inside Santa's Grotto
Santa in his Grotto
One of Santa's Elves
The African Mercy Ship
On the 25th November 2016 Martin Bush and his wife Joy gave a presentation to the club member's and guests at the Community Centre Riddings following their voluntary work on "The African Mercy Ship" the largest hospital ship in the world, providing extensive medical treatment throughout Africa and neighbouring islands. A donation of One hundred and fifty pounds was raised for the UK Mercy Ship Charity.
Club President Roger Stevenson, Martin and Joy Bush and Club Member Stan Green
Martin Bush giving his presentation
A Charity Quiz Night was held on the 2nd November raising three hundred pounds for local charities the winning team was lead by President Roger Stevenson and the runners up team lead by Vice President Dennis Fretwell.
The best dressed theme team was Mandies Marvels from the Inner Wheel Club of Alfreton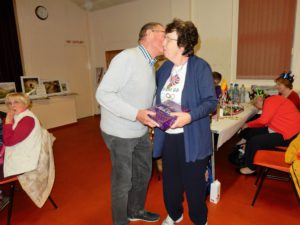 Induction of Joanna Dronfield and Julie Rossington as Associate members of Alfreton Rotary Club on the 2nd October 2016
Joanna, President Roger, Julie
Alfreton Rotarian's constructing a new gazebo for Alfreton Nursery School on Grange Street in July 2016
Club Member's helping at Alfreton's 2016 'Run in the Park'
The Clubs stand at Alfreton's 2016 'Party in the Park'